What is 3D printing?
3D printing or additive manufacturing is a process of making three dimensional solid objects from a digital file.
The creation of a 3D printed object is achieved using additive processes. In an additive process an object is created by laying down successive layers of material until the object is created. Each of these layers can be seen as a thinly sliced horizontal cross-section of the eventual object.
How does 3D printing work?
It all starts with making a virtual design of the object you want to create. This virtual design is for instance a CAD (Computer Aided Design) file. This CAD file is created using a 3D modeling application or with a 3D scanner (to copy an existing object). A 3D scanner can make a 3D digital copy of an object.
3D scanners
3D scanners use different technologies to generate a 3D model. Examples are: time-of-flight, structured / modulated light, volumetric scanning and many more.
Recently, companies like Microsoft and Google enabled their hardware to perform 3D scanning, for example Microsoft's Kinect. In the near future digitising real objects into 3D models will become as easy as taking a picture. Future versions of smartphones will probably have integrated 3D scanners.
Currently, prices of 3D scanners range from expensive professional industrial devices to $30 DIY scanners anyone can make at home.
3D modeling software
3D modeling software also comes in many forms. There's industrial grade software that costs thousands a year per license, but also free open source software.
When you have a 3D model, the next step is to prepare it in order to make it 3D printable.
From 3D model to 3D printer
You will have to prepare a 3D model before it is ready to be 3D printed. This is what they call slicing. Slicing is dividing a 3D model into hundreds or thousands of horizontal layers and needs to be done with software.
Sometimes a 3D model can be sliced from within a 3D modeling software application. It is also possible that you are forced to use a certain slicing tool for a certain 3D printer.
When the 3D model is sliced, you are ready to feed it to your 3D printer. This can be done via USB, SD or wifi. It really depends on what brand and type 3D Printer you have.
When a file is uploaded in a 3D printer, the object is ready to be 3D printed layer by layer. The 3D printer reads every slice (2D image) and creates a three dimensional object.
Getting started with 3D Printing
Industrial 3D Printing
Direct Metal Laser Sintering (DMLS)
Benefits of 3D Printing with DMLS Technology
FAQ
NASA using 3D
Featured Projects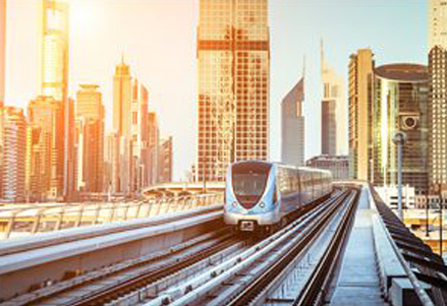 Project Location: Dubai, United Arab Emirates Project Worth: US$ 7.6 Billion Status: Ongoing (Fully automated metro rail network in the city of Dubai, United Arab Emirates) Scope of Supply: Supply of Anchor Bolts, U- Bolts, Dowel Bars